Tickets for future events are available just after the prior event is concluded.

Claudia Russell and Bruce Kaplan
February 14, 2015 @ 7:30 pm

-

10:00 pm
This is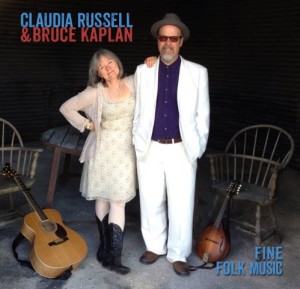 the first regular performance in the Lighted Window Concert Series.
Claudia Russell and Bruce Kaplan traverse a wide Americana landscape, stopping at wondrous musical landmarks along the way, tipping their hat to bluegrass bands, blues divas, jazz cats, folkies, and singing cowboys. Lesser performers might stumble or sound fake, but, driven by Claudia's expressive voice and distinctive guitar style, it all comes together beautifully.
Claudia has a knack for crafting tightly written songs that take you back to the sweet spot of youth and the autumn colors of middle age. Kaplan's accompaniment, on mandolin or electric guitar, is spot-on. Paul Zollo, senior editor of American Songwriter magazine, called their new CD, "All Our Luck Is Changing," "a masterpiece."
All of this, served up with a generous serving of homespun humor and shaggy dog stories, making for a heartfelt and humorous evening of deeply engaging music.
Russell has won numerous other accolades including Best New Artist from WUMB FM in Boston, Best Musician in the East Bay Express Reader's Poll, 2x Kerrville Folk Festival Songwriting Finalist, and praise in Sing Out, the San Francisco Chronicle, and the Boston Globe.
Visit www.claudiarussell.com to have a look/listen.