Latest Event Updates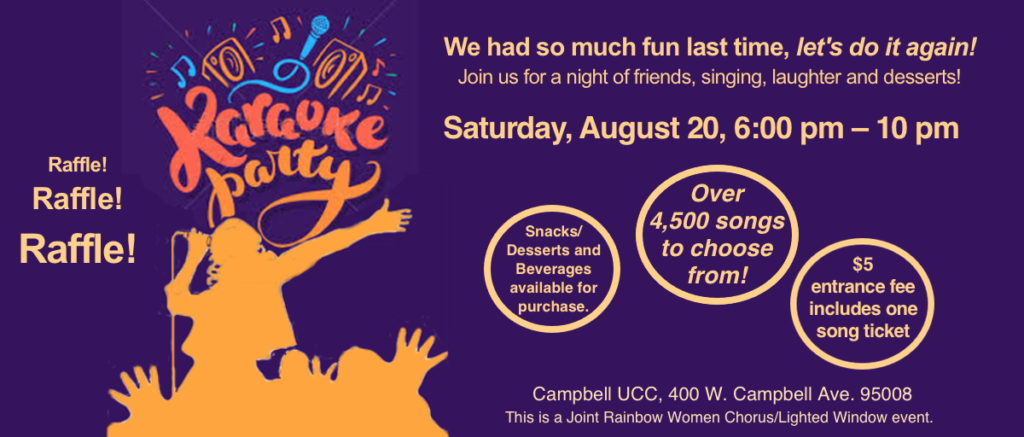 We had tons of fun at the last Karaoke Event in June, so let's do it again!
Where: Campbell UCC – 400 W. Campbell Ave. 95008 – In Nelson Hall adjacent to the church
When: August 20th – 6:00pm – 10pm
Entrance fee: $5 (includes one ticket)  Purchase at the door.
Snacks and Desserts:
We will be selling snacks, sodas and desserts.
Raffles:
Throughout the evening there will be random ticket drawings to give away several fun and fantastic items. A variety of items will be awarded (including some boobie prizes). You must be present to win with a name on the ticket.
How does it work?
The currency of the night is a Ticket:
There will be a table set up selling tickets that can be used in a variety of ways. Tickets are used for the drawings, to purchase merchandise, to buy refreshments and also for the karaoke event. See pricing structure below.
All tickets will be placed in a bowl and drawn throughout the evening.
Karaoke:
(Entrance fee is $5 ea, includes one raffle ticket)
At 6:00pm, the microphone will open and karaoke begins. We have top of the line, professional sound system, so you can shine. There are also over 4,500 songs to choose from. Books will be provided and available for quick online search. You can also search and request a song here.
To be placed in the rotation to sing, write the song name and your name on back of a ticket and give to the karaoke host.
• Solo Song = 1 ticket
• Duet Song = 2 tickets
• Group song (up to 4 microphones) = 4 tickets
• Want to challenge someone to sing a song? = 1 ticket
• Want to opt out of singing the challenged song? = 2 tickets
• Purchase a "Free Pass" sign to opt out of all Karaoke challenges = 5 tickets
• Front of the line bump = 5 tickets (can only use once)
• Request a song for EVERYONE to sing = 2 tickets
• Blind Karaoke Challenge (sing without the words) = 2 ticket entry (winner will get a drawing item)
• Other fun events and challenges throughout the evening.
Singers will be called on a first come/first served basis, but we will try to keep the rotation going and give everyone a chance to sing. There is a time capacity for the amount of songs we can fit into a 3 hour period, so we may need to change the rules depending on the amount of singers. Please be respectful to all singers. This may be the first time anyone has performed karaoke. Make everyone feel at home and like a superstar!
This event is jointly hosted by the Rainbow Women Chorus and Lighted Window Concerts.