Latest Event Updates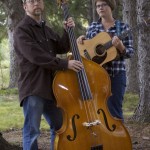 Lighted Window Concerts is pleased to present
Katie Dahl with Rich Higdon performing on November 14, 2015 at 7:30pm.
Wisconsin singer-songwriter Katie Dahl has performed her original songs everywhere from the dusty cliff country of Mali, West Africa, to the winding canals of southern France, to the cedar forests of the American northwoods. The depth and power of Katie's alto voice, the literate candor of her original songs, and the easy humor of her live performances have earned her numerous songwriting awards, as well as the chance to share stages with some of America's most respected songwriters, including Dar Williams, Peter Mulvey, Julie Gold, and Cheryl Wheeler. Katie is also a playwright whose musical Victory Farm premiered to high acclaim in 2012 and has since been made into a live cast album. Mike Fischer of the Milwaukee Journal-Sentinel writes that Katie Dahl "combine[s] old-fashioned populism, an abiding love of the land, and wickedly smart love songs, all delivered in a rich and expressive alto."
This concert will have Katie sharing the stage with bassist-percussionist, Rich Higdon, to perform original and cover songs, accompanied by Dahl's own trademark guitar and harmonica playing, as well as Higdon's upright bass, spoons, and washboard playing.
Artist website is http://www.katiedahlmusic.com/
Tickets are $25 General Admission, $15 Senior/Student and free for children 12-yrs and under. Tickets are available at http://lightedwindow.org/concert/katie-dahl-with-rich-higdon/.